Rigid steel structure provides
escape-proof fish cage
and
safe working conditions
Cleaning, disinfecting and maintenance
is performed on site as the fish cage can lift itself completely out of water.
Photo: Steinar Johansen/MNH
Aquatraz semi closed fish cage
with deep lice skirts and excellent water supply
Keeping sea lice out and salmon in.
The water replacement system and the deep lice skirts provide a positive aquatic environment in the fish cage. Oxygen-rich water is pulled in from water depths with minimum sea lice and algae, and circulated in the cage. This is expected to improve fish health, increase growth rate, lower feed factor, improve colouring and produce firmer fish fillets. 
Increasing fish stocking density
Protecting the farmed salmon form escape and securing abundant supply of deep water, facilitates a substantial increase in the fish stocking density. An Aquatraz research programme in 2019-2020 monitored the effects of increased fish stocking density up to 30 kg/m3, and found no negative effects on water quality nor fish welfare.
Stable steel platform improve working conditions
The raiseable steel structure with wide walkways and handrails provides improved working conditions with less heavy lifting, and decreased reliance on support vessels. Aquatraz has a design life of 20 years with low operating and maintenance costs. The fish cage has a lifting system ensuring that the cage can be lifted out of water for cleaning, disinfecting and maintenance on site.
Financials results of salmon production in Aquatraz
Effective production model in Aquatraz
An financially efficient way to utilise one Aquatraz, is growing large smolts from about 0.4 kg to 2 kg in Aquatraz in the first 6 months, then move the salmon over to conventional net pens for another 6 months until slaughter weight. See the illustration below. The goal is production with no need for delousing. In Norway a rule of thumb is that both direct and indirect lice costs totals to approximately NOK 10 / kg salmon (c. 0,85 GBP/kg). One Aquatraz and several net pens allows for a total yearly production of 5.000 tonnes, saving approximately NOK 50 million per year (4,3 million GBP). These are approximations with round numbers, and 6 months of lice-free production in open cages is not guaranteed, though it is likely. Delousing after only 6 months in conventional net pens is unusual. Starting with 500.000 smolts in Aquatraz is a low number that can easily be increased.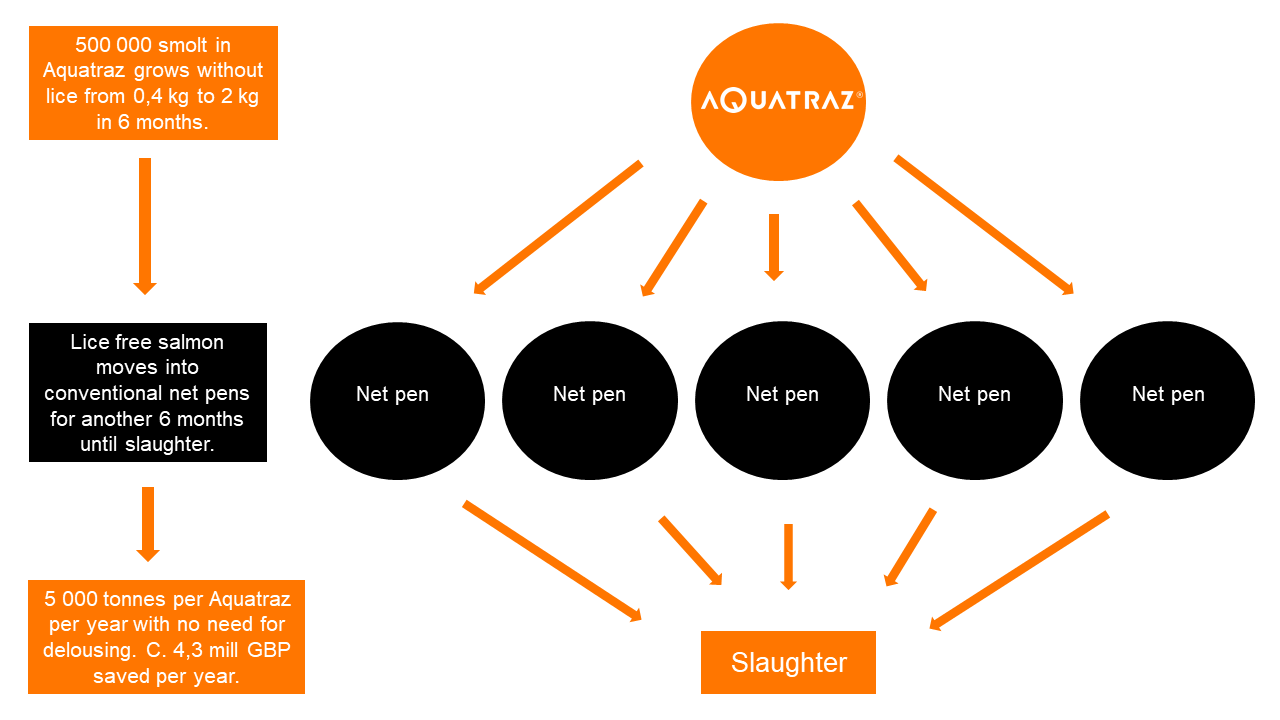 Low energy consumption per kg salmon
Photos from the Aquatraz development project
Photos: Steinar Johansen/MNH