Lice skirts and deep water intake
prevents sea lice
Rigid steel structure provides
escape-proof fish cage
and
safe working conditions
Cleaning, disinfecting and maintenance
is performed on site as the fish cage can lift itself completely out of water.
Photo: Steinar Johansen/MNH
Aquatraz G4
semi closed fish cage with deep lice skirts
and excellent water supply
Keeping salmon in and sea lice out
The water replacement system and the deep lice skirts provide a positive aquatic environment in the fish cage. Oxygen-rich water is pulled in from water depths free from sea lice and algae, and circulated in the cage. This is expected to improve fish health, increase growth rate, lower feed factor, improve colouring and produce firmer fish fillets. 
Aquatraz G3 has lice skirts of total 18 meters, where the upper 8 meter are of steel and the bottom 10 meter of impermeable tarpaulin. 
Protecting the farmed salmon form escape and securing abundant supply of deep water, facilitates a substantial increase in the fish density inside the cage.
Stable steel platform automate and simplify operations
The raiseable steel structure with wide walkways and handrails provides improved working conditions with less heavy lifting, and decreased reliance on support vessels. Aquatraz has a design life of 20 years with low operating and maintenance costs. The fish cage has a lifting system ensuring that the cage can be lifted out of water for cleaning, disinfecting and maintenance on site.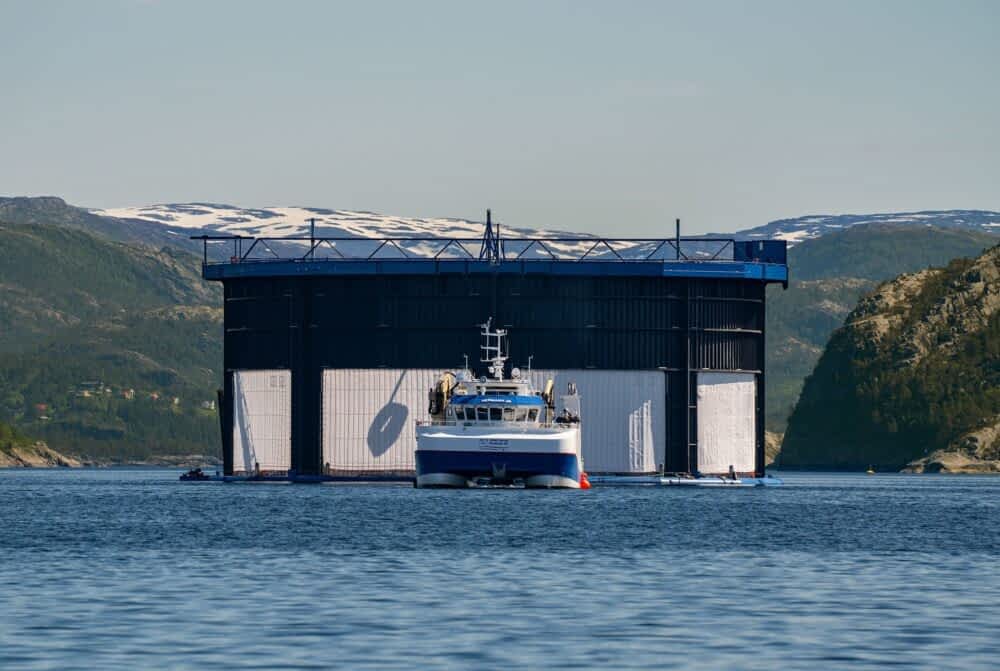 The second generation Aquatraz – G2, has a new electric lifting system that allows for lifting and lowering without relying on energy supply from a boat. It has wider walkways with heated storage containers and several other improvements that is still part of the newer generations.