- the first commercial Aquatraz fish cage
| no escape | no delousing | higher fish density | low mortality |
| good HSE | improved fish health | improved fillet quality |
Over the course of three years, Aquatraz, the semi closed fish cage with deep steel lice skirts, has been developed from concept to commercial product. Four cages from three development generations have thus far been launched. They have accumulated three years of operation and produced 5,000 tonnes of salmon. Further results from operation of the Aquatraz G3 over the summer 2020 will be incorporated in the final design for the fourth and last generation Aquatraz. Aquatraz G4 will be available for fish farmers that have not been part of the development project so far, as the first commercial Aquatraz fish cage. 
Keeping sea lice out and salmon in the fish cage

The sea lice count in Aquatraz G3 is low and decreasing (without treatment). G3 has a total lice skirts of 18 meters, where the upper 8 meter are of steel and the bottom 10 meter of impermeable tarpaulin. Aquatraz G4 is planned with 25 meter deep steel walls / lice skirts. The side panel (5 m) and the bottom is steel/grp grating, further escape proofing the cage. The total volume is expected to be 60.000 m3. 

The water replacement system and the deep lice skirts provide a positive aquatic environment in the fish cage. Oxygen-rich water is pulled in from water depths free from sea lice and algae, and circulated in the cage . The whole volume is shifted every 12. min. As in closed fish tanks, the salmon in Aquatraz opt to stay in the induced stream and the training intensity can be optimized by adjusting the circulation speed according to current, temperature and fish size. This is believed to improve fish health, increase growth rate, lower feed factor, improve colouring and produce firmer fish fillets.

Safeguarding against escape and secure abundant supply of sea lice free water facilitates a substantial increase in the fish density inside the cage.
Stable steel platform automate and simplify operations

The raiseable steel structure with wide walkways and handrails provides great working conditions with no heavy lifting, decreasing reliance on support vessels. Aquatraz has a design life of 20 years with low operating and maintenance costs. The fish cage can be lifted out of water for cleaning, desinfecting and mainenance on site. Fouling is continously and automatically removed from the inside wall. 

In Aquatraz G4 the volume can be vertically sectioned, allowing for sorting of fish, starving and delivering in batches. This provides more flexibility and room for optimization of the salmon production.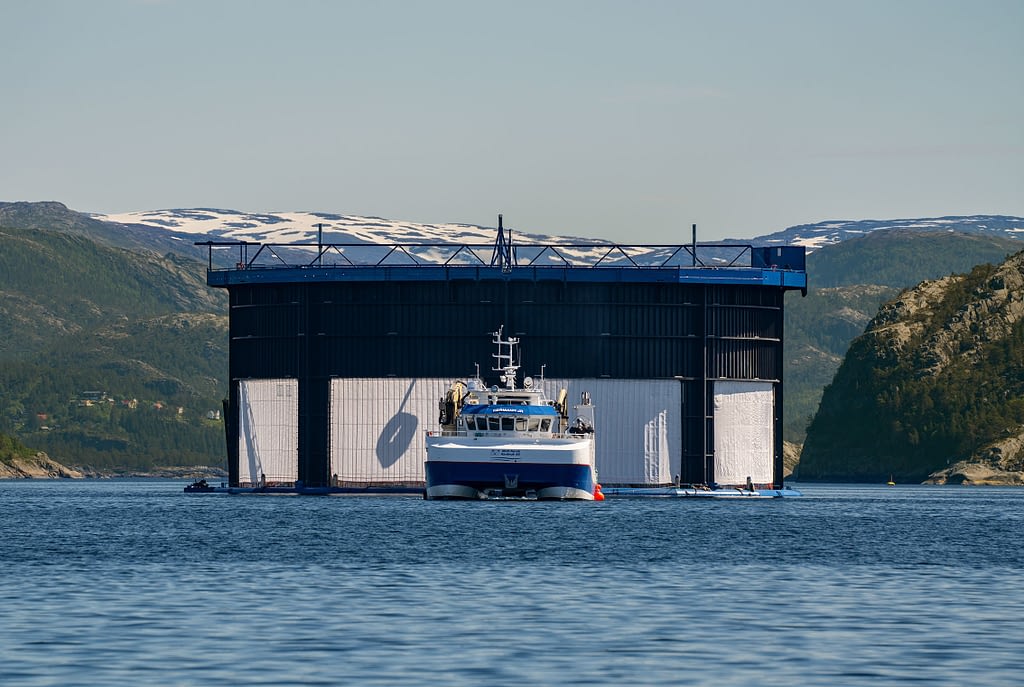 The latest Aquatraz, launched in April 2020, have implemented a total of 18 meter of lice skirts. The top 8 meter in steel and the additional 10 meter in tarpaulin. This is done in preparation for the fourth and final generation Aquatraz, which is planned with 25 meter deep sea lice skirts /side walls in steel.
The second generation Aquatraz – G2, has a new electric lifting system that allows for lifting and lowering without relying on energy supply from a boat. It has wider walkways with heated storage containers and several other improvements that is still part of the newer generations.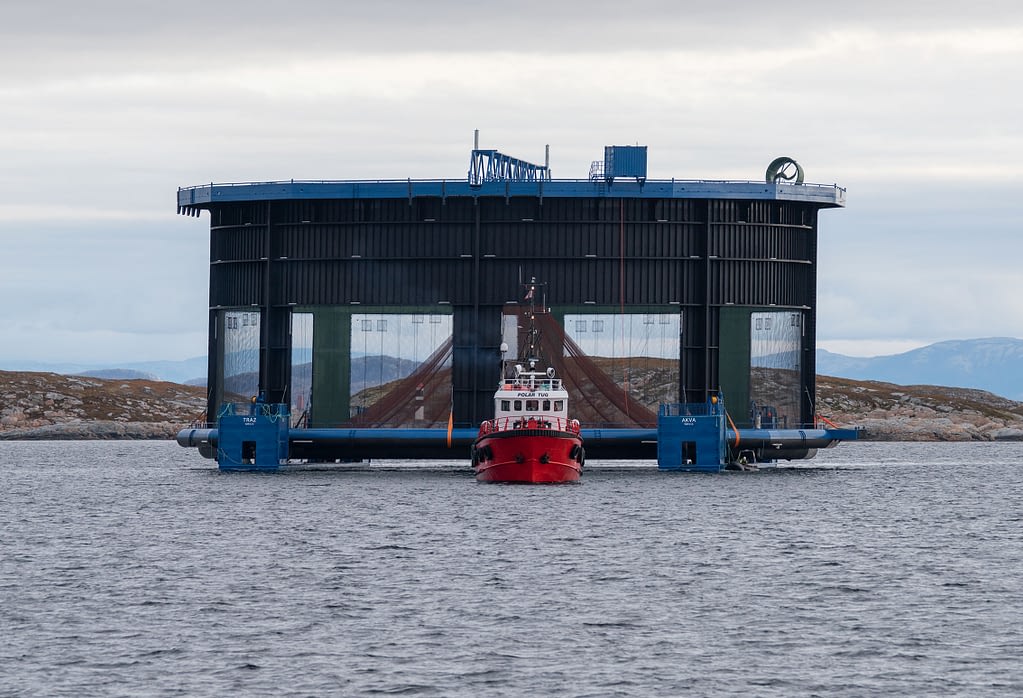 Sandstad, CEO of Seafarming Systems, explains to fishfarmingexpert:
"Unlike previous generations, the G4 can divide the farming volume into adjustable sections, like pieces of cake. This enables the delivery of fish without raising the fish cage. The division also provides opportunities for sorting fish as well as batch starvation and delivery of fish. During the work with G4, it has also been important to focus on operations. In the first generations, the main focus was on the fish, but for G4, which is to be a commercial cage, it is important that everything is automated in most operations. Therefore, greater flexibility in production has had increased focus."
Key figures Aquatraz G3 & G4 fish cage. The latter is still under development and there might be minor changes
| Key figures | Aquatraz G3 | Aquatraz G4 |
| --- | --- | --- |
| Circumference | 160 m | 160 m |
| Height | 23,6 m | 34 m |
| Volume | 50.500 m³ | 60.000 m³ |
| Walls/Lice skirt depth | 18 m | 22,5 m |
| Water circulators | 4 pc a 5 kW | 6 pc a 7 kW |
| Volume shifts | app. every 20 minutes | min. every 15 minutes |
| Spare generator with automatic start | Yes | Yes |
| Lifting system | Electric | Electric |
| Sorting, starving and delivery in batched | No | Yes |
| Delivery of fish depending on lifting systems | Yes | No |
| Storage containers | 4 pc a 10 fot | 4 pc a 10 fot |
| Maximum individuals (disp) | 400.000 | TBA |
| Maximum fish (disp) | 45 kg/m³ | TBA |